Lunar New Year (Seollal) is one of the major festival/holidays in Korea and that is usually one of the only two vacations that ChungDahm teachers get while teaching English in Korea. Thankfully, for my branch, this holiday was celebrated for five days which meant...time to travel and leave Korea! Although airfare is extremely pricey during this holiday, I thought it would be better to go travel than to just stay in Seoul where most of the city would be shut down. Also, I decided to meet my parents who were on holiday in Thailand.
Before I give you my top 3 places to visit while you are visiting Thailand I first want to offer you some advice on traveling there and what airport you should fly into.
Bangkok, Thailand is about a six hour plane ride from Incheon International Airport. There are two major airports in Bangkok, Don Mueang and Suvarnabhumi Airport. I flew into the older airport Don Mueang because the flights there were a bit cheaper. However, if I choose to go back to Thailand, I would probably spend the extra money and go to the newer Suvarnabhumi.
The reason for this was because there was zero control after the immigration check in. People waited for over hour in a self-maintained line, but then literally people started cutting and then it became a mad dash of everyone trying to get through the screening process. I had never seen anything like it and when someone asked the immigration staff for help, they refused to help us. This is probably the worst airport I have ever been too. Also, it seems that there are no metered taxis to this airport so everyone I talked to got overcharged. This was one of the downsides of the trip. The other downside was that someone tried to steal my mother's purse when we were at Pratunam Market by slicing through it with a knife. Thankfully my mother was safe and nothing was stolen. There are signs all over saying be aware of your belongings so take heed to their warning.
On the positive side, there are so many great things to do in the city. Here are my three places I visited in Thailand.
1. Baiyoke Tower II
This is the tallest tower in all of Bangkok, at 85 stories high, and has some of the most exceptional views of the city. To get the top, you must ride a glass elevator that brings you to the 77th floor. After this you take another elevator and walk up to the last floor. The trek is definitely worth the price (about $10USD) because the top floor is open-aired and gives you a 360 degree view of Bangkok. I was in awe of how big this place was! Many of my friends said that Bangkok was small and I would have to disagree!
One word advice if you plan on traveling around Thailand and that is to make sure that you have addresses in Thai if possible. Although the fares are pretty cheap many of the taxi drivers we drove with did not speak any English.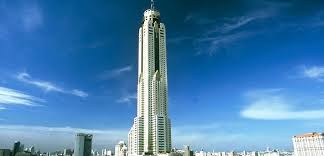 2. Wat Arun "Temple of Dawn"
My parents decided to hire a guide to go with us for the first day around the city. This was done at Suvarnabhumi Airport for about $10 USD/person. Wat Arun was the one place I really wanted to go too. We did however have to take a cheap boat ride across the Chao Praya River to get here. Unfortunately when we got there the temple was being renovated but it was still spectacular nonetheless. It is free to walk around the temple grounds, but there was a fee if you wanted to climb the actual temple. I chose to do it by myself and I was extremely glad I did. The steps up the temple are steep so make sure you wear good shoes. But the views when you get up top are worth it. Just make sure you follow the climb up and climb down signs. Many tourists failed to do so making it difficult to get in and get out.
3. Pattaya
Pattaya is a coastal city on the Gulf of Thailand and is known as one of Thailand's party cities. It is a quick 2 hour bus/van/taxi ride from Bangkok (taxi ride one way cost about $35 USD). With that being said, this is an expat haven. We met so many people from Korea, the U.S., Australia, and European countries all either living or vacationing there. The beach is quite beautiful and the water was very warm. It felt like summer although it was still winter. Pattaya is famously known for its seafood and nightlife. There are no words to describe Pattaya's 'Walking Street'. I felt like I had fell into Las Vegas without the gambling. Just know I totally understand why people say Pattaya is a great place to party.
There are a lot of places to see and things to eat that I have failed to mention. Also, don't forget to get a massage while there since that is what Thailand is known for. Although there were some negatives about this trip, it does not outshine how many positive memories I will have of the Kingdom of Thailand.
After working for five years in banking, Marc decided that it was time for a change before he got too old. He left the stress from his 9-5 job to do something new and different. After coming to Korea with a group of buddies, he landed in the Gangdong Branch in Eastern Seoul. When he's not teaching and doing head instructor duties, he is out about traveling Korea, looking for the new, old, and undiscovered places to visit. Follow him on Twitter @geonmakku and on Instagram @geonmakku for the latest happenings in South Korea.